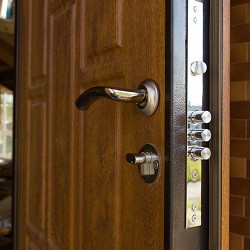 Not Your Everyday Locks
Mortise locks are a type of lock that fit into a pocket or mortise at the edge of a door. They're probably not the typical ones that fit on the surface of a door that you're used to seeing. They are heavy duty pieces of hardware that have uses in residential and commercial properties. When you want the best, you can count on the experts at Leon Valley Locksmith Pros to install, maintain, and repair mortise locks, as well as provide all other lock service needs.
---
Benefits Include:
Durability, to stand the test of time.
Deterrent to thieves who find them difficult to pry open.
Suitability for schools, factories and other busy places.
Versatility, as they come in a variety of styles to fit your personal taste.
---
Professionals Required
Specific types of mortise locks are suitable for multi-family housing, privacy, exits, halls and more. One type is called an institutional, and is used for government institutions and prisons, and this fact underscores that it's a lock that can provide the utmost security.
For proper installation, only a skilled locksmith with special tools and knowledge of exact techniques has the ability to precisely cut the mortise for a door. Not all mortise locks are the same size, so this adds to the necessity of choosing someone with experience in installing them.
Many older homes still have them because they were frequently used between the late 1800s and about 1940. Many homeowners use them for their entry door. For business owners and homeowners who still use these locks, we offer top of the line maintenance and repairs .
About Us
We're located in Leon Valley, TX, a town of about 11,000 residents that was incorporated in 1952. Located in Bexar county, our community is just 10 miles from downtown San Antonio. When you need a top rate commercial or residential locksmith you can rely on us. If you're not sure what type of lock is best for your property, we're here to answer your questions. Our technicians have 5+ years of experience. We're mobile and we're available 24 hours a day.
---
The Pros Advantage
We're licensed, bonded and insured
Our technicians respond within 30 minutes or less for emergency locksmith situations

We give fair and up-front pricing
---
Locks For All Styles
Architects and homeowners like using mortise locks because they offer many attractive looks. The object on which our residential or commercial locksmith installs one of these locks looks so much better.
You can choose to have a knob or a lever. Finish options may include bright brass, satin brass, satin bronze, bright chromium plated, satin chromium plated, bright stainless steel or satin stainless steel.
Brands And Other Services
Our services aren't limited to mortise locks. We also do rekeying, get you back into the house you're locked out of and so much more. Our automotive services include repairing ignition keys, programming transponder keys, fixing chip keys making duplicate chip keys and unlocking your trunk. In serving businesses, in addition to doing locks for doors, we also do cabinet and window locks.
Our products are excellent examples of well-made, technologically advanced security solutions. Brands we carry include Yale, Schlage, MasterLock, Kwikset, Stanley, Kara, American Lock and Multilock.
---
When you need a locksmith with experience who's honest, knowledgeable and professional, contact us!