Deadbolt Locks
We've got you covered for all your installation and repair needs. Call us anytime for fast, friendly service.
GET A FREE QUOTE
(210) 255-2900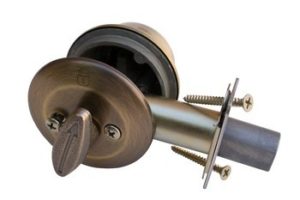 Enjoy an added layer of protection with high-quality deadbolt locks from Leon Valley Locksmith Pros. You can also count on our experienced technicians to perform prompt repairs to existing locks or replace ones that are worn or damaged. We're your trusted source for budget-friendly residential and commercial locksmith service in Leon Valley TX and surrounding areas.
Why Choose Us?
We're a company with a solid reputation for providing fast, affordable assistance. When you contact us, you'll talk to a real person who will determine the best way to address your problem. Since we're based locally, we're able to quickly provide emergency locksmith service. Customers can expect:
Licensed, Bonded And Insured Technicians
30 Minute Or Less Response Times
Accurate Estimates And Upfront Pricing
Full Installation And Repair Services
Reasonable Rates And Convenient Payment Options
24/7 Availability And Easy Scheduling Options
Q: Are there different types of deadbolts I can choose from?
A: There are three basic types of deadbolt locks you can have installed at your home or business:
Single cylinder deadbolt: Opened or activated from one side with a key and thumb piece on the inside part, this is the most common type of deadbolt.
Double cylinder deadbolt: Activated with a key from both sides, this type of deadbolt is often recommended when there is breakable glass close to the knob.
Keyless cylinder deadbolt: Locks of this type are opened with a password or fingerprint scan. They can be closed with a knob or button.
Q: Can I keep the existing face-plate when replacing deadbolts?
A: If the face-plate is still in good shape, then you may prefer a re-key, which involves changing the lock mechanism to work with a new key, instead. For complete replacements, it's best to change the lock and related parts at the same time.
Q: When should I consider replacing my deadbolts?
A: Deadbolts are fairly durable and tend to last for many years, when properly installed and maintained. Consider replacement if you've had a break-in attempt that damaged the lock or if the bolt no longer fits securely into the jamb hole.
---
When quality matters, turn to Leon Valley Locksmith Pros in Leon Valley TX for your commercial and residential locksmith service needs. Whether we're re-keying a deadbolt, making a few repairs or installing an entirely new lock for you, expect a fair price and reliable results. Call today to schedule an appointment with a technician or request emergency locksmith service.